Reparations: Remembering, Repairing, and Re-imagining
When
Thursday, June 17, 2021
---
Webinar series on reparations held Thursday June 10, 17, and 24 at 1pm EST.
---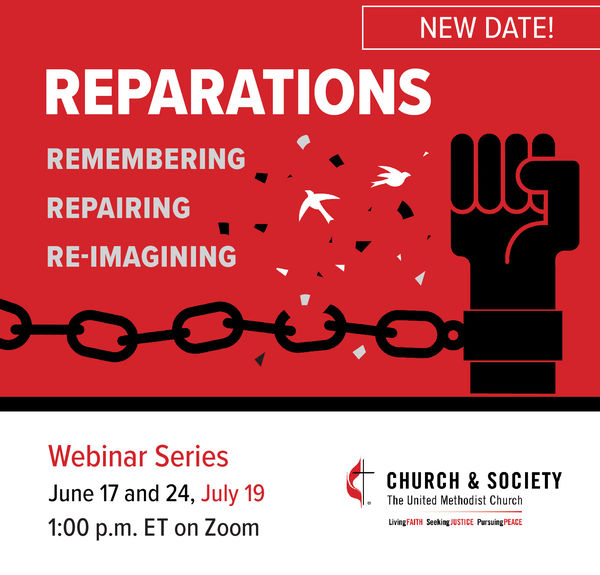 Join Church and Society for a special three-part webinar series:
"Reparations: Remembering, Repairing, and Re-imagining"
JUNE 10, 2021, REMEMBERING:
To better understand reparations, this webinar will focus on the intergenerational racism and discrimination of descendants of slavery, and how it contributed and continues to contribute to the widening racial wealth gap we see today.
JUNE 17, 2021, REPAIRING:
Panel discussion on examples of reparations in the United States (Japanese Americans, Native Americans, Native Hawaiians, and Evanston, Illinois). What can we learn from these examples of reparations?
Panelists:
His Excellency Leon Kaulahao Siu, Minister of Foreign Affairs for the Kingdom of Hawai'i
Rev. Michael Yoshii, Activist and Retired Elder California-Nevada Conference
Rev. Chebon Kernell, Executive Director of Native American Comprehensive Plan
Rev. Grace Imathiu, Senior Pastor of Evanston First United Methodist Church in Evanston, Illinois
JUNE 24, 2021, RE-IMAGINING:
As people of faith, what is the case for reparations from a theological/biblical perspective? And how can we prophetically live into that calling now and guarantee it for the future?
Speaker: Rev. Dr. Kelly Brown Douglas, Dean of the Episcopal Divinity School at Union Theological Seminary
---
All sessions will be recorded and links will be provided after the webinar.
Closed captioning will be provided.
For questions about the webinar series, contact Aimee Hong, Senior Executive Director of Education and Engagement.